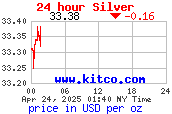 With the spot price of silver hovering around $13 per ounce, it is getting more difficult to find silver bullion coins at lower prices. Up until the last month, I have been able to buy most silver bullion coins at the spot price or even a dollar lower on Ebay. This rise in silver prices has proven profitable for billionaire investors like Warren Buffet (The Wizard of Omaha) and Microsoft Chairman Bill Gates. Both invested in silver while at lower prices.
Numismatically, I wrote that I liked silver bullion coins for being able to show off the coin's design better than the "affordable" gold bullion coins. While looking at sets to purchase, I am drawn to the wonderful Adolph A. Weinman Walking Liberty design on the American Silver Eagle, the different design on the Great Britain Britannia Bullion Coin, the Chinese Silver Panda, and the simple yet elegant Canadian Maple Leaf. Over the last month I was able to procure at least one issue of all four of these coins at reasonable prices.
Bargains (and reasonable prices) in silver are becoming hard to find. Sources where I was able to buy at "fair" prices (± 10-percent of spot price) are now selling silver at premium prices (greater than 10-percent of spot price). Those bullion coins with greater numismatic value (e.g., uncirculated 1986 first year issue of the American Silver Eagle) are commanding prices beyond many price guides. I was a bit surprised to see the PCGS online price guide lists the 1993-P Proof American Silver Eagle for $190 at PR-65. My complete set of proof American Silver Eagles has been purchased from the US Mint at their issue. While they were bought as a collectible, the current market value of that collection is something to watch as the spot prices change!
One area where bargains cannot be found are with the silver Chinese Pandas. If you check the bargain basement capital of the world, Ebay, silver Pandas sell for an average of $8 more than American Silver Eagles. Are the Silver Pandas that popular? I had the chance to ask that question to Julian Leidman, noted dealer, who was speaking at the recent meeting of the Montgomery County Coin Club. Mr. Leidman said that the Silver Pandas are sold at a premium by the Chinese government. He said that the Pandas have become a very popular collectible worldwide and that the Chinese government was capitalizing on that popularity.
The silver market is getting very interesting. It may not reach the highs seen in 1980 (over $300 per ounce), but the demands and the investors using silver as part of their portfolio make it very interesting to watch.