While the beginning of a new school year wreaks havoc with some schedules, as a contractor to the federal government, my schedule is affected by the end of the government's fiscal year. Agencies have work to do and a budget that has to be accounted for. As the year comes to a close, they look to ensure that the money is spent on worth while work—or at least their systems are securely built. I do more "emergency" information security assessment in August and September than I do during the rest of the year.
With my head assessing security risks, I continue to watch the numismatic market. There are a few things I want to comment on.
I has previously questioned the US Mint's pricing of precious metals. Although the Mint has adjusted prices when the price of gold has gone up, they have not lowered the price when gold prices go down.
When I discussed the price and premium of the American Gold Buffalo coins released in July, I noted that the Mint was charging a premium averaging over 20-percent the price of gold for these coins. But that was on July 15, when gold was $975.10 per ounce. The gold market closed at $802.90 on September 5, a $172.20 drop in price. Yet the Mint continues to sell Gold Buffaloes at their original issue price.
Updating that table with the current price of gold, we can see the increase in premiums:
Option
Mint Price
Metal Value on 7/15
Premium on 7/15
Metal Value on 9/5
Premium on 9/5
Premium Pct
Proof 1 oz
$1,199.95
$975.10
$224.85
$802.90
$397.05
33.08%
Proof ½ oz
$619.95
$487.55
$132.40
$401.45
$218.50
35.24%
Proof ¼ oz
$329.95
$243.78
$86.18
$200.73
$129.23
39.17%
Proof

1

/

10

 oz
$159.95
$97.51
$62.44
$80.29
$79.66
49.80%
Proof 4-Coin Set
$2,219.95
$1,803.94
$416.02
$1,485.37
$734.58
33.08%
Uncirculated 1 oz
$1,059.95
$975.10
$84.85
$802.90
$257.05
24.25%
Uncirculated ½ oz
$539.95
$487.55
$52.40
$401.45
$138.50
25.65%
Uncirculated ¼ oz
$289.95
$243.78
$46.18
$200.73
$89.22
30.77%
Uncirculated

1

/

10

 oz
$129.95
$97.51
$32.44
$80.29
$49.66
38.21%
Uncirculated 4-Coin Set
$1,959.95
$1,803.94
$156.02
$1,485.37
$474.58
24.21%
About.com's Susan Headley posted an article about the Mint's pricing policies with a proposal to tie the price of the coin to market conditions.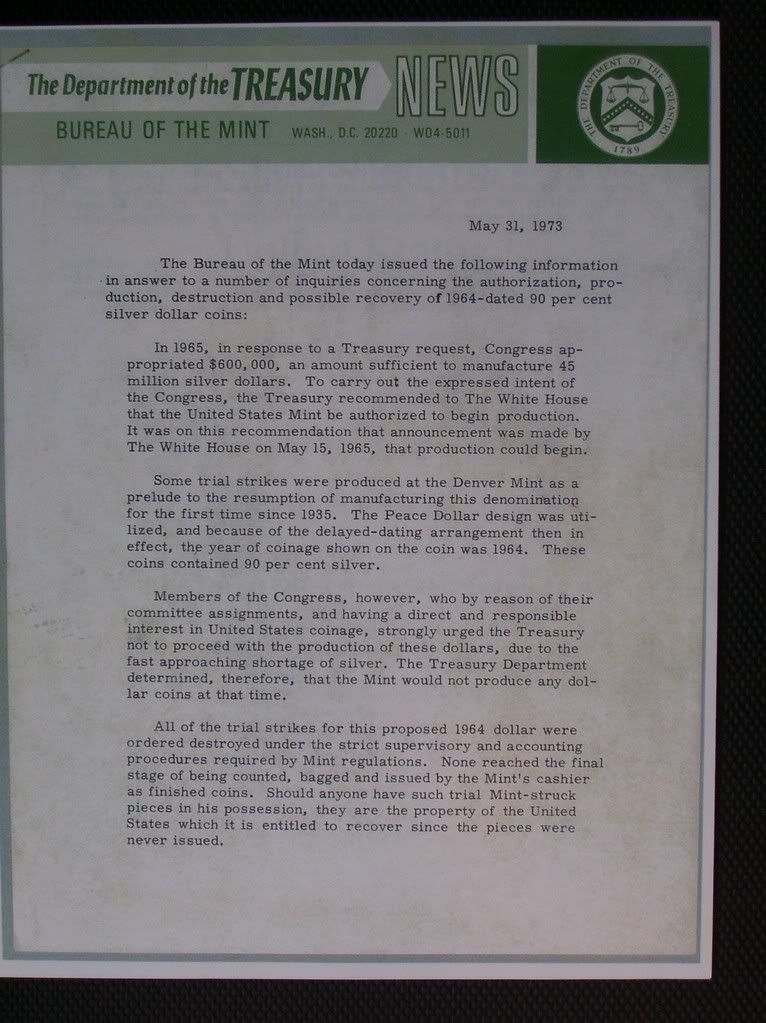 If you follow me on Twitter, you will notice that the image I use is a digitally altered image of a 1964-D Peace Dollar. Trial Peace Dollars were struck very briefly at the Denver Mint in 1965 to use to gain approval for their issuance. Because of the silver shortage in 1964, the Mint was urged to cease production and melt these coins. Collectors' Universe forum user "savoyspecial" posted an image of a May 31, 1973 letter from the Mint explaining the fate of the 1964-D Peace Dollar. Although the letter says all coins were destroyed, I have a feeling that a few examples missed the smelting pot and not in the government's possession.
Let me close by offering my condolences to family, friends, and associates of Radford Sterns. Dr. Sterns was a prolific exhibitor at the American Numismatic Association conventions and former governor. His specialty was Georgia colonial currency. I met Dr. Sterns at an ANA convention and asked questions about colonial currency and aspects of Georgia history. He was very gracious and engaging. The hobby was better for his participation and will miss his contributions.
Image of US Mint letter courtesy of CU Forum user savoyspecial
Image of Radford Sterns courtesy of Numismatic News